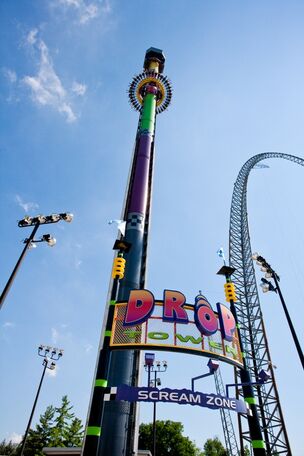 Drop Tower: Scream Zone is a Gyro Drop tower located at Kings Island, Ohio. It staggers up to 26 stories, and drops you at the height of 315 feet, reaching a speed of up to 67 miles per hour. Prior to Cedar Fair ownership the was known as "Drop Zone" when King Island was owned by Paramount.
This article is a stub, help Tilt-a-Wiki by expanding it!
This article needs more information and a ride duration.
Ad blocker interference detected!
Wikia is a free-to-use site that makes money from advertising. We have a modified experience for viewers using ad blockers

Wikia is not accessible if you've made further modifications. Remove the custom ad blocker rule(s) and the page will load as expected.