Magic Springs and Crystal Falls


Statistics

Location

Hot Springs, Arkansas, United States

Opened

1978

Closed

1995

Reopened

2000

Website

Owner

CNL Lifestyle Properties

Operator

Amusement Management Partners, LLC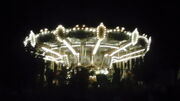 Magic Springs and Crystal Falls is a Theme Park/Waterpark in Hot Springs, Arkansas, United States. It was opened in 1978, but closed in 1995 for financial reasons. It was reopened in 2000.
Flat Rides
Edit
Name
Manufacturer
Type
Opened
Status
Dr. Dean's Rocket Machine
S&S Power
Double Shot Tower Ride
2001

Operating

(sometimes

dysfunctional)

Wild Thang
Zamperla

Spinning Ride

N/A
Operating
The Hawk
Zamperla
Spinning Ride
N/A
Operating
Rum Runner
N/A
Swinging Pendulum
N/A
Operating
Old No. 2 Logging Company
N/A
Log Ride
N/A
Operating
Carousel
N/A
Carousel
N/A
Operating
Plummet Summit
N/A
Splash Down
2005

Operating

Fearless Flyers
N/A
Kiddie
N/A
Operating
Looney Ballooney
N/A
Kiddie
N/A
Operating
Bugga Booga Wheel
N/A
Kiddie
N/A
Operating
Kit n' Kaboodle Express
N/A
Kiddie
N/A
Operating
Lil' Leapin' Lizards
N/A
Kiddie
N/A
Operating
Roller Coasters
Edit
To see a list of the present and past roller coasters at Magic Springs, click here: http://rollercoaster.wikia.com/wiki/Magic_Springs_and_Crystal_Falls
Magic Springs has multiple events throughout the year such as
Education in Motion
Celebrate The Word
SplashDance
Magic Screams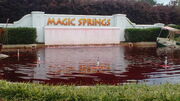 Incidents
Edit
The following is a list of incidents that have occurred at Magic Springs and Crystal Falls. (From Wikipedia)
On July 30th, 2006, a 45-Year old woman from Memphis, Tennessee fell from the Twist and Shout coaster. Inspectors sais she was too large for the ride, which caused the safety restraints to not work properly.
On September 4th, 2006, an 11-year old boy was shot in the wrist from a falling .22 caliber bullet
On June 9th, 2007, a power outage left 12 people stranded upside-down 150 ft. In the air for 30 minutes on the X-Coaster
Ad blocker interference detected!
Wikia is a free-to-use site that makes money from advertising. We have a modified experience for viewers using ad blockers

Wikia is not accessible if you've made further modifications. Remove the custom ad blocker rule(s) and the page will load as expected.