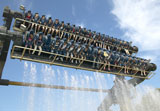 Riptide is a Top Spin located at Canada's Wonderland. Like most Top Spins, it has water fountains running during the ride. Unlike most Top Spins, which feature only one gondola, Riptide features two. It was originally named "Cliffhanger" from 2000-2007. It is manufactured by Mondial & it's design is "Splashover Top Spin"
Ride Experience
Edit
Riders take a seat in one of two gondolas. Once given the all-clear, the ride starts to lift & spin while the fountains at the base of the ride rise. The ride will go through the fountains on warmer days either forwards or backwards, with people in the front gondola getting totally soaked. The operator can also trick riders by stalling the ride with their heads inches from the fountains, then spinning them 360 into the water. There is no official cycle for this ride, as the operators can control the fountains & spinning as they please
Ad blocker interference detected!
Wikia is a free-to-use site that makes money from advertising. We have a modified experience for viewers using ad blockers

Wikia is not accessible if you've made further modifications. Remove the custom ad blocker rule(s) and the page will load as expected.