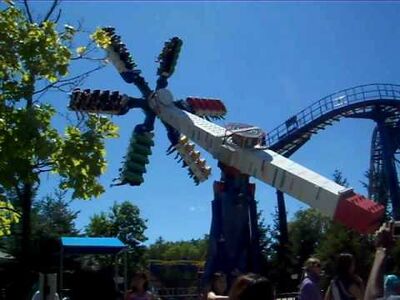 Shockwave is a Mondial Top Scan located in Canada's Wonderland in Vaughan, Ontario. It was opened in 2001, and was also known as "Protein Spill 2001."
Ride Experience
Edit
Riders are seated in 6 rows of 6, accomodating 36 riders per cycle. The ride starts by lifting off the ground, then throwing riders around on every possible angle the ride operates on, while spinning forwards. It then repeats the same cycle backwards, before returning to the loading platform. One cycle lasts about 2 minutes.
Ad blocker interference detected!
Wikia is a free-to-use site that makes money from advertising. We have a modified experience for viewers using ad blockers

Wikia is not accessible if you've made further modifications. Remove the custom ad blocker rule(s) and the page will load as expected.