A Star Shape is a flat ride containing six gondolas which can hold up to five people (for a total of 30 riders). There are four Star Shapes currently operating: Bling at Skyline Park in Germany, High Energy at Kaiser Family in Germany, AIR at Abie Danter Jnr in England and Mechanica at Liseberg in Sweden.
Zierer is currently the only manufacturer to build Star Shapes. The design is based on the HUSS Frisbee and the Mondial Top Scan.
Traveling Star Shapes are transported on four semi-trailers. The time for a Star Shape to be assembled is sixteen hours and a crane is needed.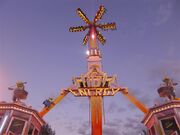 Ad blocker interference detected!
Wikia is a free-to-use site that makes money from advertising. We have a modified experience for viewers using ad blockers

Wikia is not accessible if you've made further modifications. Remove the custom ad blocker rule(s) and the page will load as expected.