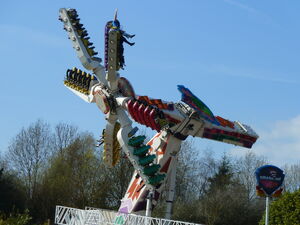 Whirlwind is a Mondial Top Scan ride located at Lightwater Valley in Ripon, Yorkshire, England, UK. It is one of only three Top Scan rides in the United Kingdom.
In 2010, Lightwtaer Valley rented an identical ride from a showman for a year. They decided it would be worth buying their own, so bought another Top Scan, which opened in 2011.
It was then sold in 2016 and removed from the park. It is still unknown why the ride was put on the market, because it was said one of the most popular rides at Lightwater Valley
Ad blocker interference detected!
Wikia is a free-to-use site that makes money from advertising. We have a modified experience for viewers using ad blockers

Wikia is not accessible if you've made further modifications. Remove the custom ad blocker rule(s) and the page will load as expected.