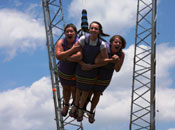 Xtreme Skyflyer is a Skycoaster Flat ride located at Kings Island. Like most skycoasters, there is an additional fee to ride. Riders are lifted 153 feet above the ground, and suddenly let go, free falling 17 stories. The lowest point of the ride is where you are six feet above the ground. Xtreme Skyfler could also be considered a giant swing.
Ad blocker interference detected!
Wikia is a free-to-use site that makes money from advertising. We have a modified experience for viewers using ad blockers

Wikia is not accessible if you've made further modifications. Remove the custom ad blocker rule(s) and the page will load as expected.